Evercade - weitere Handheld Retro Konsole erhält Support durch Namco, Atari, Interplay und mehr
Normalerweise klick ich solche Meldungen ja fast schon weg, aber beim Evercade könnte Interesse von Euch bestehen. Daher hau ich die Infos mal hier rein.
They have already secured major licenses confirming a total of 85 games including Namco Museum (with 22 games including Pac-Man™, Dig Dug™, Galaga™, Galaxian™, Weapon Lord™ and Splatterhouse™ 2 and 3), Interplay (with 13 games including Earthworm Jim 1 and 2, Clayfighter and Battle Chess), Data East (with 10 games including Burger Time, Karate Champ and Bad Dudes) and Atari (40 games including Asteroids®, Centipede®, Missile Command®, Ninja Golf (7800) and Alien Brigade (7800). They have promised over 100 titles for launch and more to come!
On top of this, they have also today announced support for 'new' retro inspired games and have confirmed they are already in discussions with several indie publishers to bring their retro inspired titles to the platform.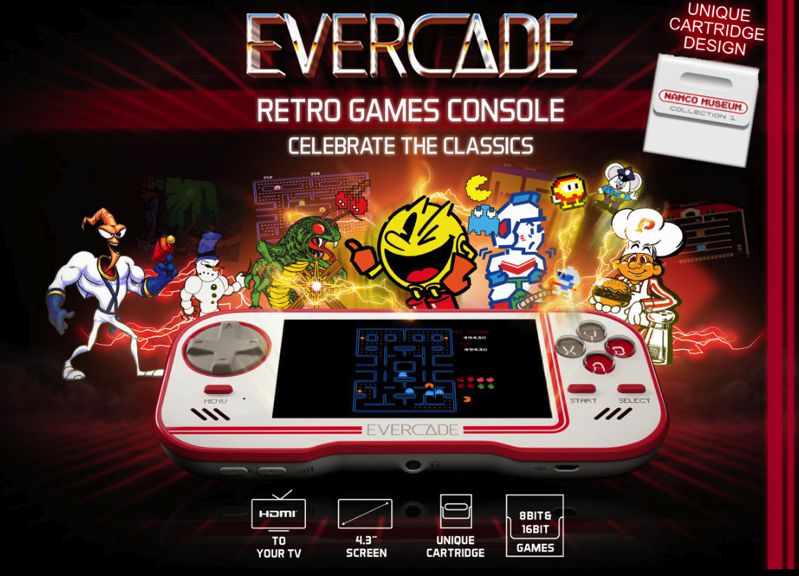 The console:
Supports 8 and 16 bit games (view the full list of confirmed games so far here)

Collectable, ever increasing library of games on the unique Evercade Cartridge (with 6 - 20 games per cartridge)

HDMI connectivity to connect to your TV

4.3" screen (the same size as a PSP)

Selectable 4:3 or 16:9 screen ratios (traditional retro 'square' or widescreen),

Supports saving and loading your game at any point

4-5 hour battery life

Retailing at just £59.99/€69.99/$79.99 with individual cartridges only £14.99/€17.99/$19.99

Launching globally

More information about where to order will be announced soon, but they have confirmed this will be a full worldwide release.
Visit the official website at:
www.evercade.co.uk
M.C.
Dieser Account zerstört sich bei 50.000 Postings von selbst....